These guidelines describe the key elements of the Brucklyn brand and visual (UI / UX) and corporate identity (CI). They are primarily intended for designers, partners and vendors who wish to implement or visually represent the Brucklyn brand. Adherence to these guidelines ensures a consistent look and feel for the Brucklyn quartier and visually reinforces the identity.
We, the Brucklyn and its affiliates, provide these guidelines to our customers, technology partners and the media who wish to use or reference Brucklyn Quarter service marks, names, icons, designs, symbols, designations or logos. All assets provided by Brucklyn are extremely valuable to the Brucklyn brand, and these guidelines establish the ground rules for their use. The Brucklyn Quarter has a number of brands and services. Use of these brands and services is permitted only in accordance with these guidelines or with separate written permission from the Brucklyn or Jost Unternehmensgruppe GmbH, so you should read these guidelines carefully.
Basic rules for all content
Unless you have an agreement with us to the contrary, your permitted use of our content must comply with these guidelines, our Style Guide, and the following general rules:
Use current, official, unaltered logos and content. Our logo in particular represents an artistic asset and may not be altered. As such, you may only use the Brucklyn logos from the download source provided to you by Brucklyn or reproductions of artwork provided by Brucklyn, and you must follow all style guidelines provided by Brucklyn for the logos and assets.
You may not alter or modify the Brucklyn logos in any way, including by changing the colors, font, adding dashes, rearranging design elements, or stretching/distorting them. Also, Brucklyn logos may not be animated. Clear and consistent usage is required.
Make sure the Brucklyn logos are clearly visible. In addition to avoiding distortion, do not reduce Brucklyn logos so that they appear unclear, blurred, or otherwise unreadable.
Make sure there is adequate space between Brucklyn logos and other graphic or textual elements. Brucklyn logos must always be viewed and interpreted as unique elements.
Do not use Brucklyn logos to "embellish" or "jazz up" your materials. Our logos are artistic assets and should not be used for stylistic purposes only.
Use as image copyright – © Brucklyn Quartier Erlangen
THE PERMITTED USE OF TRADEMARKS UNDER THESE GUIDELINES IS PROVIDED SOLELY ON AN "AS IS" BASIS. BRUCKLYN DISCLAIMS ALL LIABILITY AND DAMAGES (INCLUDING CONSEQUENTIAL DAMAGES) ARISING OUT OF OR IN CONNECTION WITH OUR TRADEMARKS OR THESE GUIDELINES, AND ALL WARRANTIES AND REPRESENTATIONS (EXPRESS OR IMPLIED, ORAL OR WRITTEN), WHETHER PURPORTED TO ARISE BY OPERATION OF LAW, TRADE USAGE, COURSE OF DEALING OR OTHERWISE, INCLUDING ALL WARRANTIES OF NON-INFRINGEMENT OR VALIDITY.
about the Brucklyn Quartier
Brucklyn Quartier - The Place to B
With the BRUCKLYN quartier in the Erlangen-Bruck district, a new, unique work-lifestyle concept has been realized. For people who make high demands on themselves and also on their life, living and work. This includes inspiring living, working and community spaces in premium quality and good design, a high service level of accompanying services for private life and on-the-job, a high degree of networking among each other, short distances and flexible mobility. And of course a serious sustainability concept.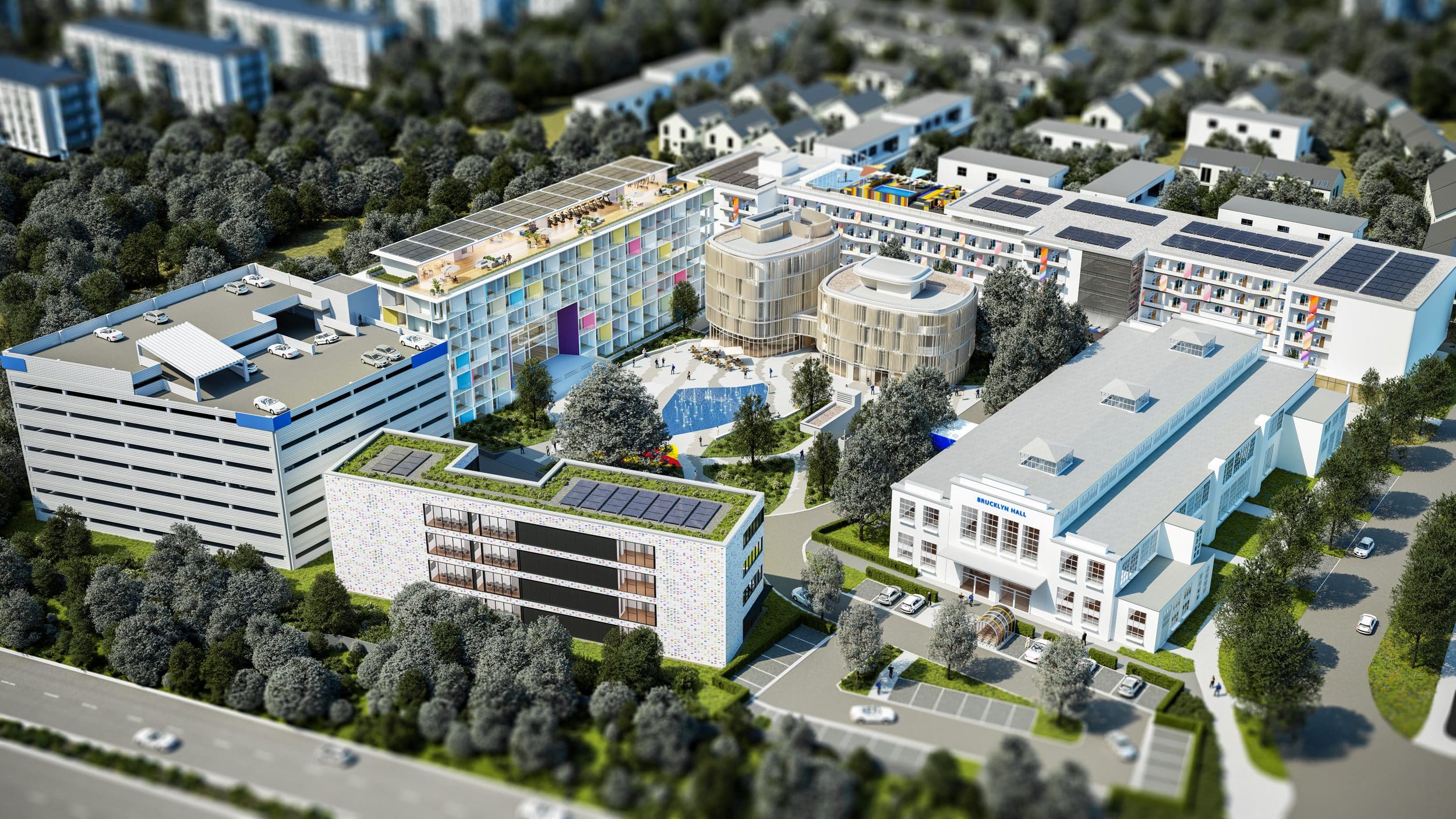 Depending on the service, the corresponding logo is used.
On a dark background the white logo is to be used – on a white background the logo in the primary color.
HEX: #0047BB
RGB: 0 71 187
CMYK: 96 71 0 0
HEX: #104798 – #5C79BB
RGB: 16 71 152 – 92 121 187
CMYK: 99 75 3 0 – 70 50 0 0
HEX: #EF7D17
RGB: 239 125 23
CMYK: 0 78 100 0
HEX: #EB5D0B – #EF7D17
RGB: 235 93 11 – 239 125 23
CMYK: 0 74 100 0 – 0 78 100 0
HEX: #FFCD00
RGB: 255 205 0
CMYK: 0 20 96 0
HEX: #EF7D17 – #FFCD00
RGB: 239 125 23 – 255 205 0
CMYK: 0 78 100 0 – 0 20 96 0
Brucklyn Business Apartments
HEX: #396696
RGB: 57 102 150
CMYK: 83 56 20 4
HEX: #396696 – #5B8CC1
RGB: 57 102 150 – 91 140 193
CMYK: 83 56 20 4 – 68 38 7 0
HEX: #68C7FF
RGB: 104 199 255
CMYK: 55 6 0 0
HEX: #68C7FF – #88D3FF
RGB: 104 199 255 – 136 211 255
CMYK: 55 6 0 0 – 47 2 0 0
HEX: #827654
RGB: 130 118 84
CMYK: 36 43 69 29
Detailed info in one document
Insights from the Brucklyn Quartier