Brucklyn Apartments was awarded the highest rating in the Green Stay Initiative. A green future is a principle at Brucklyn and is lived every day.
A unique energy concept was developed for the Brucklyn site. We use the power of the sun and prefer to save our energy for a living concept full of foresight and quality of life. In addition, we declare and proactive Erlanger willing to engage in local projects for climate protection, energy transition and sustainability in Erlangen.
More information about the Erlangen Climate Alliance in our blog post.
At HRS, a core corporate value is to protect our planet and pass it on to the next generation. With 9% of global CO2 emissions, the travel industry remains a major contributor to global warming and catastrophic climate change.
With the Green Index Initiative, HRS provides the global standard for the hotel industry. The initiative provides full transparency through normalized data and recommendations to enable more sustainable business travel and lodging.
HRS has invited all hotel partners worldwide to their individual account in the HRS Hotel Audit Portal.
Hotel partners can easily study the Green Index methodology and confirm their individual contribution to sustainability under constant monitoring.
 If an independent third party has verified the implementation, additional data can easily be provided as part of the evaluation process.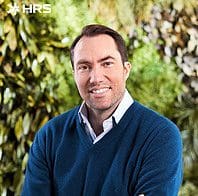 Tobias Ragge, CEO HRS GROUP
Developed by the industry
The Green Index is based on the Hotel Carbon Measurement Initiative (HCMI), which was founded by leading hotel associations and the World Travel & Tourism Council.
Monitored by experts
The HCMI methodology is being developed with the advice of KPMG and the World Resources Institute (WRI), a development partner of the GHG Protocol.
Globally standardized
Green Index and HCMI are aligned with the Corporate Standard and Product Lifecycle Standard of the GHG Protocol and follow ISO14064-1.
Extensively validated
The practicality of the Green Index HCMI methodology was tested with over 50 hotels of different types, classes, geography and ownership.
Continuously updated
Green Index data is collected and reported for a 12-month period, resulting in footprint data that is never older than 18 months.
Extensive
The Green Index includes all GHG emissions from activities within the building, including restaurants, meeting rooms, fun and fitness studios, and back-of-house facilities.
Practical output
Corporate decision makers and end users are provided with a normalized and intuitive supplier selection experience.
Green Heroes support
Hospitality providers will be able to be transparent about their efforts to use renewable energy and sustainable production.